The WTAU (Weite Technologies Co.,ltd) recently received a precious gift from a distant African brother--a big compliment!
Let's take a look at the little story between Weite and African brothers!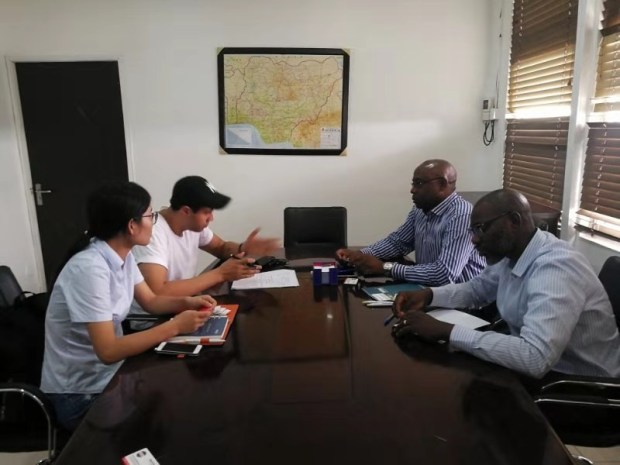 Weite Engineer meet with Nigeria customer
First---know your name
The fate is really a wonderful thing . In the big world, I only saw your name more.
There are thousands of people from linkedin, and countless crane maintenance engineers, but you have stood out among the people , then a wonderful fate begins here. Apply to be a friend—pass my application —send private letter--introduce myself and the company. At the beginning, you are very indifferent. You just know WTAU is only a manufacturer of load moment (or Rated Capacity) Indicator crane computer(LMI) safety protection devices. I only know that you are a maintenance engineer from a crane rental company in Nigeria.
Second—know more about you
Every time I say hello to you, you are very indifferent. I even suspected that it was a robot sitting opposite. One day you told me that a crane computer(load moment indicator) has broken and may need to replace a new safe Load Indicator (SLI) system. After communicating about the crane capacity, crane model,crane brand, crane part line No,etc magnification and other information, I prepared a formal quotation for you. But you didn't have any news back for a long time. Later, I called your company receiption and got your answer ,you thought China is too far away from you, and worried about product quality problems, also there is no guarantee for after sale service.
Even I sent you WTAU's official news link, various crane installation cases from Singapore, Indonesia, South America, Middle East, etc. and also have some from Nigerian customers. And many company we work with are the top 100 crane rental companies in the world. But this still can't dispel your doubts. You told me that, the most important thing is safety during the crane working. The Safe Load Indicator (SLI) crane computer is to ensure the safe operation and work of the crane. Although I tell you, we have been engaged in the production and development of load moment indicator (LMI) crane computer systems for 17 years, and have only done one thing during 17 years - focusing on crane safety devices.
However, because of the distance, you told me you still need to consider more about that . We understand the concerns of every customer, because it is our initial intention to ensure the safe operation of each crane, so we didn't give up.
Third---Meet with you
Since you can't come to meet us, then I come to see you.
I ever invited you to visit our company many times to know more about WTAU products and strengths. Unfortunately, you always said that you have no plans to come to China. Fortunately, my African visit plan just approved by our company at the July of this year. In view of your indifference, I made an appointment with you before to meet you, I did not expect you to agree.
When meet you at nigeria, I found that you are very nice, very talkative and very enthusiastic. This time we came with a technical engineer and a local agent (installation engineer) to come over and solve all technical questions in detail. Finally, we completely dispel your doubts about product quality and after-sales installation, and you promised to give us a trial order after we back.
From spring to autumn, we also turned from strangers who have never met each other to become familiar friends. Thank to Linkedin ,let us know each other,thanks to Wei te, let us have a common goal and pursuit.
I am so happy to receive your gift today. I believe we will have more in-depth cooperation in the future. We will continue to fulfill our mission in the field of crane safety and protection, and to be the protection expert for global crane safety protection devices.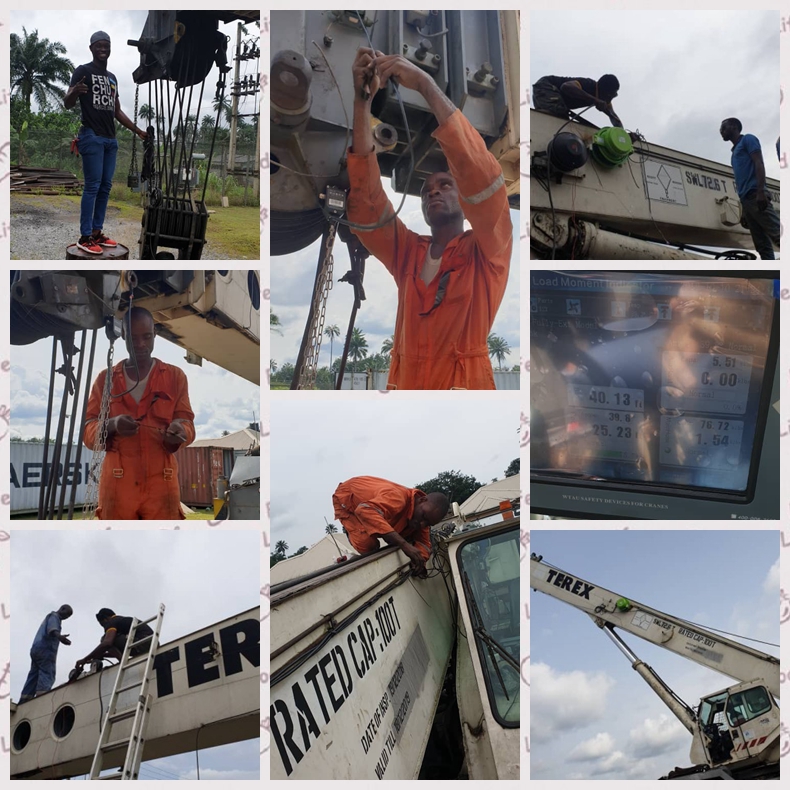 WTAU WTL-A700 crane computer load moment indicator (LMI) system installation for customer Terex rt 1000 mobile crane