Tower crane black box (also known as tower crane remote safety monitoring system) is mainly used for real-time monitoring of tower cranes to avoid safety accidents caused by operator negligence or misjudgment, which can greatly ensure the safe operate of tower cranes.
Weite-WTL type tower crane black box is a new generation of high-performance tower crane safety monitoring device ,which design & produce according to GB/T 5031-2008"Tower crane", GB 12602-2009 "lifting device overload protection device", GB 5144-2006 "Tower crane safety regulations", GB 6067.1-2010 "Lifting machinery safety regulations" and GB/T3811-2008 "Crane Design specifications and other related requirements . It has reached the leading level in domestic which approved by expert and obtained major scientific and technological achievements in Hubei Province.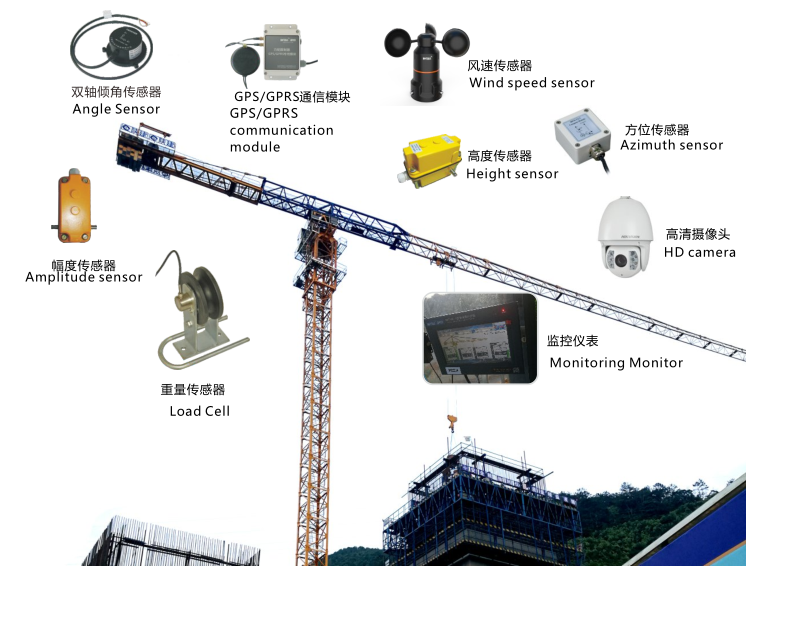 Tower Crane Black Box Main Characteristics
1.National standard
Meet the requirements of national standards for bridge crane safety monitoring systems, and can independently record and View various parameters in real time.
2.Remote maintenance
Built-in dedicated remote module for remote diagnosis and repair of equipments.You can view the real-time GPS position of the device remotely and view the movement track.
5.Analytical management
Record various running information of the device in real time and upload it from the server to the device.The information and records can be compared and analyzed to improve management and productivity.
6.All-round interface
With common communication interface, passive Switching signal interface, pulse volume signal
Interface, 4 - 20 m A analog signal interface, with independent and expandable I / O functions. The whole equipment data uses Modbus or Profibus communication.
Operation can be viewed
The driver's operation record can be viewed remotely, and the correctness of the judgment and traceback operation can be analyzed in the background, and the supervision and assessment of the driver can be improved.
7.PLC communication
Can communicate with PLC communication, read all kinds of real-time data and display on the monitor .
8.Customized Service
According to the special needs of different equipments, We specialize in the expansion and customization of various functions to provide customer with the most valuable solutions.