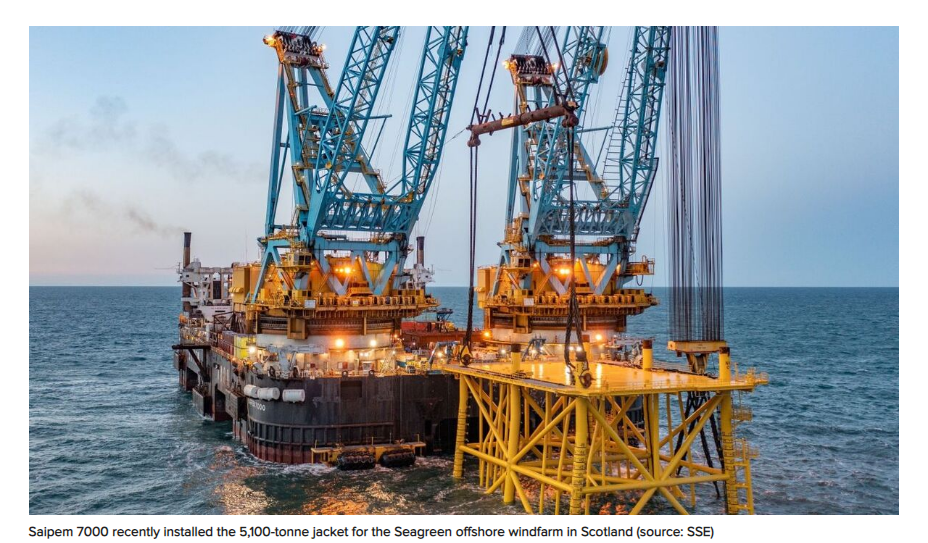 Saipem says a preliminary assessment suggests an incident involving semi-submersible crane vessel Saipem 7000 on 14 April 2022 occurred because the main block wire on one of its cranes broke during a lifting test
The incident, footage of which has been posted on social media, took place in the Amoyfjorden in Norway shortly after the vessel had completed dynamic positioning (DP) trials.
After completing the DP trials, Saipem 7000 began to undertake a five-year main cranes load test, under the supervision of class society DNV. The test involved lifting barges.
"It would appear the main block wire broke during the lifting operation and the testing load, two cargo barges, with the main block, were released in the water," said Saipem in a statement.
Saipem said the vessel returned to a stable position and safe condition after the incident and there were no injuries sustained.
Images taken shortly after the incident show the vessel listing heavily before regaining stability. They also seem to show that at least one of the two revolving bow-mounted Amhoist cranes on the vessel could have sustained damage. The main blocks are capable of a tandem lift of 14,000 tonnes and of a single lift of 7,000 tonnes.
The semi-submersible crane vessel is a well-known asset in the offshore oil and gas industry and has been awarded a number of projects in the offshore wind industry. It is unclear what the extent of damage to the vessel and its cranes might be, and whether any damage sustained during the tests could affect its role in upcoming projects.
Saipem was awarded a contract to use Saipem 7000 to transport and install the jacket and topside for the offshore substation at the St-Brieuc offshore windfarm offshore Brittany, France, which is being developed by Ailes Marines, part of Iberdrola. That project was due to take place later this year – according to the companies fabricating the structures, sail-away was expected in "spring or summer 2022."
Saipem 7000 is also due to transport and install two offshore HVDC platforms for the first two phases of the Dogger Bank project: Dogger Bank A and Dogger Bank B.
At the end of 2021, Saipem 7000 completed installation of the 5,100-tonne jacket for the Seagreen offshore windfarm in Scotland.
The vessel is also responsible for installation of the jacket foundations for the wind turbines for the Scottish project.
If you would like to know more about Wire rope non-destructive testing system ,just click here.
source from :https://www.rivieramm.com/news-content-hub/saipem-says-wire-broke-and-caused-load-test-incident-in-norway-70713