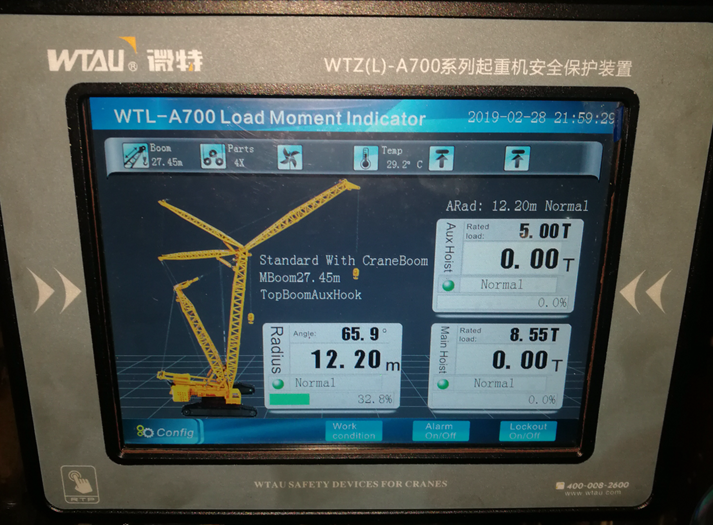 how much do you know about the crane Lmi system function & installation & calibration ?
1. What's the function of wtau WTL-A700 lmi systems can realize ?
1)Alarm, in case of over load
2)Stop instantly in case of over load
3)Show Live Weight while in operation
4)Prevent overload
5)Crane Movement Control
6)Allows user to collect data in .txt format
7)Increase crane working life and life cycle
2.Whether the crane operator can benefit from the WTL-A700 lmi system ? Yes.
1)User-friendly 8inch color touched LCD screen supports the crane operator
2)Easy to use step-by-step setup process
3)Graphic elements visualize the crane setup and allow easy verification with the real crane configuration
4)With by pass function to protect the crane operator life in emergency condition
3.How long time does it need for wtau engineer to make installation & calibration for a whole set of WTL-A700 LMI system?
1)Normally, it need 2days to finish a whole set of WTL-A700 load moment indicator system installation & commissioning.
2)For special request of customer , our professional crane LMI engineer can finish the installation & commissioning of one whole set lmi system during one day .
PS:Our engineer ever finished 3sets safe load indicator system installation & commissioning within 3 days for thailand BC customer , they are the top 100 crane rental & tranport company of the world.
3)Whatever,the acctually installation time need according to the environment of the construction site and the cooperation of workers .